EXPERT WORKSHOP
23 JUNE 2022, THURSDAY
12:30PM – 5:00PM
REDEFINING THE FUTURE OF DIGITAL PARTNERSHIP ECOSYSTEMS
Trendy cryptocurrencies and Non-Fungible Topics (NFTs) have made headlines lately and spawned new categories of digital marketplaces. Beyond the hype, the underlying technology foundation is built around Digital Ledger Technologies (DLTs) most commonly known as blockchain.
​
DLTs have crossed the hype cycle and are well on their way to enabling real innovation for the biggest brands, corporations and governments. Organisations will sooner or later have to embrace DLTs as the new building blocks to transform the way to manage identity, data, brand, provenance, intellectual property, and other tangible and digital assets.
This expert workshop offers deep practitioner expertise on:
Biggest business drivers for the adoption of DLTs
Enterprise blockchain design patterns how to design and build the right blockchain architecture for different business use cases
Latest developments in the tech ecosystem to enhance interoperability, scalability, and security of DLT projects to be enterprise ready
Unique industry deep-dive discussion and hands-on tracks: Fintech Innovation, E-commerce, Gaming and Supply-Chain Transformation
FEATURED SPEAKERS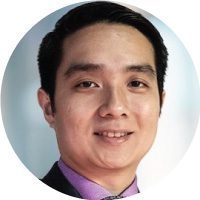 EXPERT PRACTITIONER
Eugene Yeo
Digital Transformation Advisor, Datastream Digital (DST)
Former CIO & COO, MyRepublic
Eugene Yeo was previously MyRepublic's Chief Information Officer and Chief Operations Officer. As part of his CIO portfolio, Eugene spearheaded the development of MyRepublic's Business and Operational Support Systems (BSS/OSS), which powers the company's cloud-based TelcoTech platform. He currently serves as digital transformation advisor to DST, a major telecommunications provider of Brunei.
Eugene has been involved in several blockchain innovation projects and conducts regular workshops in blockchain innovation. He also provides advisory to organisations in building scalable blockchain projects.