May 29, 2020
by Ng Qi Siang, The Edge Singapore

SINGAPORE (May 29): The mass disruption from the Covid-19 pandemic has very clearly highlighted the urgent need for businesses to upgrade their digital capabilities so that they can better capture market opportunities in a new environment. Yet, companies struggle to meet high costs and face skills gaps before such transformation can begin, according to a recent survey.
Entitled Southeast Asia Technology Trends and Priorities for 2020, the survey was conducted by CIO Academy Asia (CIOAA), a community of senior IT and digital leaders across Asia that provides thought leadership on digital transformation. Conducted prior to the Covid-19 pandemic, the survey was done in partnership with the Lee Kuan Yew Centre for Innovative Cities (LKYCIC) at the Singapore University of Technology and Design (SUTD). The survey received responses from 157 technology leaders across six Asean countries and 18 sectors to understand the technology trends and challenges the region could face in the next two years.
The six Asean countries featured in the survey were Indonesia, Malaysia, Philippines, Singapore, Thailand and Vietnam. The 18 sectors were selected by LKYCIC and range from finance & insurance to government and defence to wholesale and retail trade. More than three out of every five respondents belong to organisations with a headcount of 500 and above.
Among its key findings, the survey found that evolving customer needs and experiences was the most significant driver (67%) of digital transformation. Additionally, 90% of respondents indicated that cybersecurity is part of their organisation's strategy and expertise building. Data analytics (61%) as well as artificial intelligence (AI) and machine learning (ML) (55%) were also identified as technologies with the largest business impact in the next two years.
"This is a make-or-break competitive landscape. In an AI-driven marketplace, the rules of competition are pivoted totally on capabilities in data sourcing, processing, analytics, and algorithm development," notes the CIOAA report. "Technology leaders are laying aside budget to bulk up for the next one to two years on these capabilities. We can expect increased spending on data analytics, AI and ML, cybersecurity and risk management, and the cloud."
P. Ramakrishna, CEO of CIOAA, believes that disruption from the Covid-19 pandemic will catalyse growing awareness among businesses across the region that digital transformation is essential for the future economy. CIOAA intends to follow up on the survey results with a series of smaller pulse surveys to further understand technological challenges that firms are facing in the context of the contagion.
"Given this epochal shift, CIOAA has engaged our tech community to gauge how the crisis has upended their organisation's tech plans and expenditure, as it relates to the survey findings. The feedback so far is that most of the findings are still relevant although Covid-19 has created a 'burning platform' for digital transformation efforts to be accelerated," he tells The Edge Singapore in an interview. Indeed, earlier this month, Microsoft's CEO Satya Nadella said that the outbreak has helped bring about two years' worth of digital transformation in just two months.
The spirit is willing but flesh weak 
Despite a common desire to adopt more technology, businesses face a big challenge in the training and upskilling of employees. Even those firms that outsource their IT and cybersecurity functions to third parties often found that their contractors lacked sufficient understanding of their businesses to provide sufficiently-tailored support.
According to the survey, the biggest challenge faced by 60% of the respondents, was that their IT vendors lack the right knowledge; the second big challenge, facing 58% of the respondents, was that the vendors cannot quite accurately represent the client organisation's brand, vision and processes. On top of this, 40% of the respondents face difficulties ensuring the quality and competency of solution providers.
Ramakrishna notes that much of this mismatch arises from third-party firms not keeping pace with customers' needs. IT professionals, he shared, cannot merely be technically proficient, but must have business acumen and be ready to adapt quickly.
"IT development used to be about writing the specs and coding it, but today it's more about finding problems and creating solutions," notes Jeff Kavanaugh, adjunct professor at the Graduate School of Business of the University of Texas at Dallas in a Harvard Business Review article.
At times, merely finding sufficient IT professionals with a specific skill is in itself a problem. Case in point: demand for cybersecurity talent far outstrips supply as firms grow more concerned about potential cyber attacks. The 2020 Allianz Risk Barometer Survey found that cybersecurity was among the leading concerns for businesses, both in the Asia-Pacific and globally.
According to the CIOAA survey, 89% of companies have a cybersecurity strategy in place. However, only 62% note that the cybersecurity function fulfils their corporate needs despite 65% of companies reporting that they have dedicated employees to man the cybersecurity function. Just under 50% of enterprises reported they have not budgeted for a dedicated cybersecurity hire. "This is not surprising, given that trained and experienced cybersecurity talent is very expensive to hire, and in many cases or countries, just not available," according to the report.With increasing cybersecurity threats across South-east Asia, the lack of cybersecurity personnel to execute cybersecurity strategies leaves the increasingly-connected region increasingly vulnerable to cyberthreats.
According to Interpol, the growing integration of digital technology into daily life will see the impact of cybercrime increase exponentially. Cybersecurity firm FireEye highlights that South-east Asia's rapid economic development and growing military expenditures make the region a target for cyber espionage from advanced persistent threats.
This problem is exacerbated by differing levels of digital maturity across South-east Asian economies. While MNCs and start-ups in developed states may be able to transition to digital technology with relative ease, Ramakrishna highlights that traditional small and medium enterprises (SMEs) may face difficulties acquiring the requisite skills for digital transformation and recruiting top IT and cybersecurity talent. Developing economies like Malaysia and Vietnam may also face challenges implementing a rapid transition to a digital economy.
With Covid-19 only accelerating the rate of digital transformation, companies have no choice but to develop digital capabilities fast, or suffer the consequences. SMEs without the relevant capabilities, for one, can try and form strategic partnerships with digital service firms. "Those [firms] without a digital core will be the ones that will be left behind," warns Ramakrishna.
Into the new world 
In the short run, firms can overcome the business knowledge gap between themselves and third-party IT providers by changing their procurement strategy. For one, businesses should build long-term relationships with the vendors so that client and contractor can get to know each other better.
Under the common traditional open-tender model for specific projects, IT contractors do not have time to acquire a more than superficial knowledge of the client. Furthermore, the typical tendering process can take too long and quite often, the requirements of the project can change completely even before the contract is signed. "Firms face shorter timelines and things regularly evolve as we speak. Procurement techniques need to evolve in order to keep up with the times," he says.
Instead of offering tenders on a project basis, firms should instead recruit contractors based on their existing capabilities and agility and trial their abilities before transitioning them to longer-term projects, he says.
Alternatively, firms can also rely on co-creation, where firms develop long-term strategic partnership with third-party providers to allow the latter to build familiarity with their operations, even "embedding" or "seconding" specialist personnel with the contracting firm. The government, Ramakrishna says, is increasingly adopting the latter.
More fundamentally, however, the education system and societal attitudes have to change in order to reflect how workers are trained for IT roles going forward. "The acquisition of digital and computer science skills has been led by industry but schools are two steps behind. [IT] skills will be acquired not through formal education, but instead through skills-based platforms like Coursera and Udemy," says Ramakrishna.
This echoes an emerging paradigm shift within the Ministry of Education, which has increasingly begun placing greater emphasis on lifelong learning and skill development over paper qualifications through its SkillsFuture Movement. "Knowledge and skills go hand in hand. One must go with the other. But the Internet has made knowledge so readily available, therefore skills have become much more valued in the digital economy. This is why companies such as Google and Apple are hiring based on skills, and not just whether you have a college degree," said education minister Ong Ye Kung at the Growth Net Summit in New Delhi last year.
While universities will continue to play an important role in equipping IT professionals with basic skills, Ramakrishna sees greater synergy between industry and the ivory tower, with practitioners regularly entering the classroom to share their skills with students. This is the only way, he says, that students will be equipped with the game-changing skills needed for employment at the point of graduation.
Beyond the classroom, Ramakrishna sees workplaces changing radically to adapt to the increasingly digitised nature of the post-Covid-19 economy. At the leadership level, he notes, firms may increasingly bring in younger leaders in order to ensure that leadership is digitally competent. Even family businesses, he predicts, may begin roping in the younger generation to tap on their greater digital literacy.
"The scarcity of digital talent with CEO experience…has provided open-minded companies with the opportunity to shift the traditional make-up of the boardroom; women account for 58% of the digital non-executive directors (NEDs) recently added to boards. As a result, 37% of digital NEDs are women (although they are only 19% of total NEDs)," say Tuck Rickards and Rhys Grossman from executive search firm Russell Reynolds in a Harvard Business Review article, though the relatively patriarchal culture of South-east Asia could hinder the breaking of the glass ceiling.
Such changes will become ever more crucial as Covid-19 causes lasting changes to the world of work. Not only have digitally-equipped firms coped better with implementing work from home schemes, the impending normalisation of the gig economy will demand that firms familiarise themselves with an unfamiliar present that is likely to stay with us even when the virus recedes.
"While firms are looking at short-term methods of grappling with Covid-19 now, they should also make sure that their short-term solutions will eventually lead into their long-term goals [of digital transformation]," concludes Ramakrishna.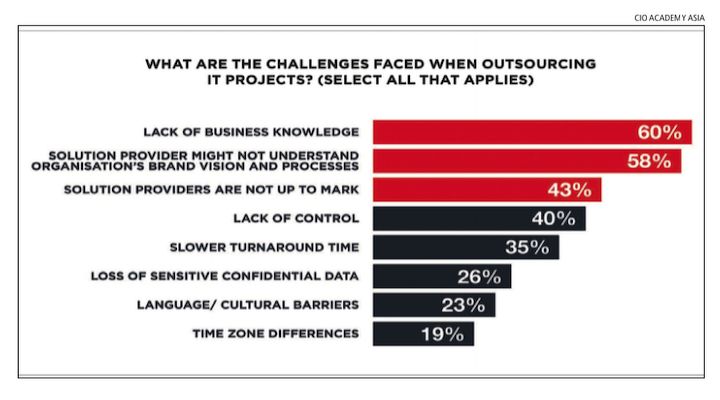 Read the original article in The Edge Singapore here
---
The Southeast Asia Technology Trends & Priorities for 2020 Report, published by CIO Academy Asia in collaboration with the Lee Kuan Yew Centre for Innovative Cities at SUTD, is now available for download.
Visit here to get your copy